The Course
A conventional course on concurrent programming using Java.
Textbook: Steve Hartley's Concurrent Programming with Java (Oxford U. Press, 1998)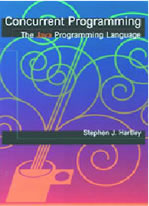 10 weeks, 30 hours (20 class meetings)
Six homework assignments, one midterm (not held in group lab), final exam -- all conventional.
Homework submitted electronically via WebCT.
Use of Groupwork Lab
Assigned reading must be done before class occurs
Lecture notes released via WebCT to class
Class periods typically consist of brief "introductory talk" by instructor
Students then download lab instructions from WebCT and begin work
Groupwork Assignments
Some questions require discussion and a written answer
Factual recall
"What happens when this program is executed?"
"Design a program to solve the following problem..."
Others (very few, in fact) require programming

Since the class periods were only 90 minutes, full-blown programming projects couldn't be done

Tended to stick with design rather than implementation after a few labs where Java thread programming was introduced.
Out-of-class homework assignments gave opportunity for writing full programs.