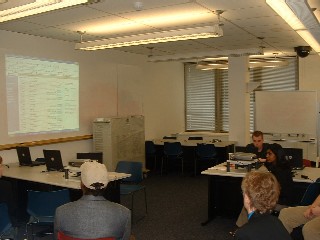 On Mar. 28, 2003, DUPLEX hosted a group of educational specialists brought together by Dr. Laurie Ruberg of NASA's Center for Educational Techology, to discuss Project DUPLEX (especially pen-based electronic grading) and possible joint ventures. Visiting were Dr. Ruberg, Dr. Willie Mackey (a NASA NAFP Fellow visiting Cheney University), Dr. Melody Wilt and Ms. Gail Kennedy of the Chester County Intermediate Unit in Exton, PA, and Mr. Dennis Christopher of NASA Goddard Space Flight Center in Greenbelt, MD.
The visitors attended presentations by Dr. Nira Herrmann about Project DUPLEX, and about Labrador and pen-based grading by DUPLEX staff members Aparna Nanjappa, Chris Cera, and Jasper Zhang.
Also in attendance were John Morris of IRT's WebCT Support group, and DUPLEX members Profs. Bruce Char, Jeff Popyack, and Paul Zoski.